Why Website Maintenance Is Best Managed by a Marketing Professional 

Creating a powerful brand involves intricate skill and a lot of ongoing work. As a business owner, you don't have time to learn the strategic and technical processes and continuously update your company's website. But, you know it's incredibly valuable to do so. An engaging, smoothly functioning website (thanks to website maintenance and inspiring content!) is what attracts precious customers online. By hiring a marketing professional to maintain your website regularly, you'll have more time to focus on building your business and fine-tuning your products and services. Further, a highly trained website professional knows how to look for and prevent cyber attacks that harm your brand and repel prospects. In this rapidly advancing digital marketing era, securing a marketing expert's services to fortify your website is an excellent investment in your business.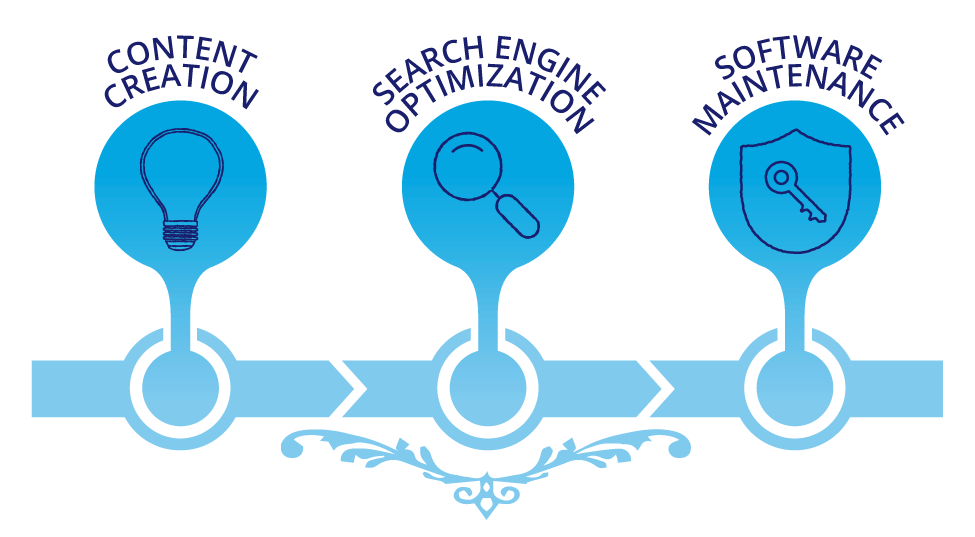 Quality content can turn leads into customers
Comprehensive website management includes content quality control. You may not notice low-performing content, but we do. Just as you're looking for answers on this page, your customers are looking for answers on your website. A marketing professional will curate quality content, which ultimately helps attract more leads via organic search. Moreover, strategically written articles, white papers, questionnaires and other content help convert that traffic into sales leads.
Engaging content results in engaged customers
Satisfying information-seeking shoppers is becoming increasingly important, as is the need to create interactive content. In fact, 91% of customers look for more visually diverse content. We know that quality content helps convert visitors into buyers, but Search Engine Optimization (SEO) gets your website noticed in the first place.
Why search engine optimization matters 
Not only do digital marketing professionals continually generate useful and captivating content, but they also manage SEO. Are you wondering where your website traffic is? Have you tried attracting leads but haven't had much luck? Does there seem to be a missing piece that you can't quite figure out? There is: Search Engine Optimization (SEO). One of the most important components of your business website, SEO helps increase traffic to your website, translating to more leads.
How can SEO help generate leads?
SEO highlights the relevancy of your page through specific search terms. A skilled marketer uses systems and techniques that work to increase website visibility. If properly executed, SEO leads to your page ranking higher in search engine results, enabling your brand to be easily found online. Being visible in online searches and spaces takes time. Thus, a professional will monitor your website, and gather and analyze statistical data. This intel is then used to optimize efforts to attract quality leads. The higher a website is ranked, the more people will find it and the greater the confidence they may have in your brand. Effective SEO can be the difference between a business that stands out and a virtual paperweight.
Meta text and keywords that captivate buyers 
The meta title, provided in the heading of your web page, can be just as important as the content on the page itself. Your meta title and description can appear in the search results that potential customers read and may very well be the reason why they first visit your website. A clear, concise and captivating title differentiates your content from that of your competitors. Not to mention, a solid description that aligns with your target audience further amplifies its relevancy. An effective SEO strategy also uses keywords appropriately to support ranking and visibility. A marketing website professional who writes, manages and optimizes your content can be the difference between a few hundred visitors and thousands of visitors.
With quality website content that is SEO-ready, your website is a mean, lean leads-generating machine. (Digital marketing and advertising add even more jet fuel to your lead generation program.) But what if your website is slow, hard to use or broken?
A healthy website keeps up with new tech 
Website technology changes so quickly. New devices and operating systems continue to be released. Consumers expect fast, user-friendly and functional services on all of the various devices they use.
It takes an ongoing investment in effort to keep up with these changes. That's what the pros are for. A specialist in website maintenance will keep your website functioning well on the most popular devices and browsers. They will ensure a quality user experience and reduce page load lags that drive away annoyed visitors and kill search engine ranking.
Security and cyber attacks
Cyber attacks happen, and they happen frequently. If you want to protect your brand, your website and your customers, your business needs cyber security. If a cyber attacker gains access to your site, it can wreak havoc on your business. Website disruption, crashes and blacklisting can cost you lost leads, visibility and credibility. They can cause a buyer to visit a competitor's website instead of yours. Moreover, when customers have their information stolen, they often don't return to that website.
Several types of cyber attacks and risks exist. Let's look at three.
Hackers love outdated websites 
Beware, the dreaded hacker. That's right, hackers. They want to harvest what they can for their gain. It only takes a second for a hacker or bot to gain access to your website. The older your website and hosting platform are, the more backdoors likely exist. An ongoing website maintenance program is important here. It can include hosting platform management, software updates and malware scanning. Checking your website for threats is an ongoing necessity.
Malware that gets you blacklisted
You've seen it before; you click a blog link to read another article or a select search result. But, instead of going where you want, you're taken to a fake winner site or worse. Hackers provide harmful links that your customers click, which redirects them to a malicious website. If search engines discover malware (malicious software) on your website, you could be blacklisted and removed from search results entirely.
DDOS attacks
DDOS attacks, otherwise known as Distributed Denial-of-Service attacks, amplify website traffic by using illegitimate automated traffic, causing your website to crash. All it takes is one moment for a successful attack to take down your entire website. This is a big problem for leads generation as it slows or stops marketing momentum.
Preventing a security breach is almost always far less expensive than cleaning up after one. A website maintenance professional will ensure that appropriate security features are in place and that software updates are completed promptly. Together, these help reduce the risk of a successful attack on your website. They also greatly speed up recovery time in case an attack is successful.
A few strategies are used to help protect your website from threats.
Website maintenance includes ensuring use of HTTPS and SSL
HTTPS and SSL are secure protocols that work together to protect your website and its data from cyber threats.
Understanding HTTPS
HTTPS stands for Hypertext Transfer Protocol Secure. User data is encrypted, ensuring there are no modifications during transfer. It prevents hackers from discovering contact details and credit card numbers. On the other hand, HTTP does not encrypt user data, which allows hackers to easily take advantage of vulnerable information. Cyber hacks are more prevalent than ever. HTTPS not only provides website security but also peace of mind and protection for your customers.
Secure socket layers (SSL)
SSL is a secure protocol developed to send information securely over the internet. SSL activates HTTPS, enabling the security and protection you need for your business. When a visitor completes a website form or makes an online purchase, SSL encrypts and secures their information. Only the server can identify the data at that point. By implementing SSL, you gain your customer's trust while protecting your business and theirs in the process.
Professional website maintenance: What are you waiting for? 
As technology advances, so too does the need to invest in ongoing website maintenance. An expert who understands the needs of the evolving digital marketing landscape is your best ally. They will create compelling content that ranks well and generates organic traffic. In addition, they will take steps to reduce security risks that damage your digital marketing ROI.
Your current and future customers want an amazing and engaging user experience. A core part of this involves continually giving them access to engaging content. Hiring a professional marketer to maintain a healthy, up-to-date website with a growing library of optimized content can make this happen.
https://mindspinstudio.com/wp-content/uploads/2021/02/WebMaintenance-title.png
690
975
Mindspin
https://mindspinstudio.com/wp-content/uploads/2015/08/Logo-MindspinStudio.png
Mindspin
2021-01-18 16:22:53
2023-06-13 14:39:07
Why Website Maintenance Is Best Managed by a Marketing Professional