Captivate and engage your audience with an easy-to-use website experience that is hard to forget.
Mindspin designs creative, interactive worlds that are tightly aligned with your brand positioning. With a clear prospecting funnel, your website will guide people to make contact, sign up or view specific content – in alignment with your marketing objectives. To keep your website relevant and ensure the best user experience, we provide ongoing website maintenance and content updates. Our strategic website design expertise has the power to influence brand loyalty, motivate prospects, reassure customers, and create enduring value for your business.
Website writing and design
Mobile-ready, responsive website development
Database-driven websites with easy content management
Graphics and interface assessment and design
Mailing list sign-ups, surveys, e-commerce, and corporate presentations
Photo and video editing, and shoot management
Hosting set up assistance and domain registration management
Ongoing website maintenance
Ongoing website content updates
Follow us on a journey through our website design process in this case study…
Mindspin helped Apogee develop its branding, tradeshow booth, brochures, artistic photo imagery and other marketing materials from day one. Since then, Apogee had been growing very quickly. Apogee needed Mindspin to help evolve its brand and online presence to match this growth.
Apogee is a ceramic manufacturer that specializes in infrared plaques, custom refractory, foundry products and technical ceramics. They supply companies in North America, Europe and Asia. So this is pretty technical stuff – leading edge engineering – in a global market. The goal was designing a visually un-boring space that showcased these technically advanced products while providing a professional stage for related technical documentation and company information. Ultimately, we needed to make it easy for prospects to feel confident in this company and to get quotes and information.
The new website achieves this and allows Apogee to update their own website page content and documentation. Positive feedback came in as soon as the new website was launched. "I noticed the Apogee site is very well put together" and "Tanja at Mindspin has a great eye for business marketing" were a few comments. Ah, making our clients look good. It makes us not only look good, but feels great too. 🙂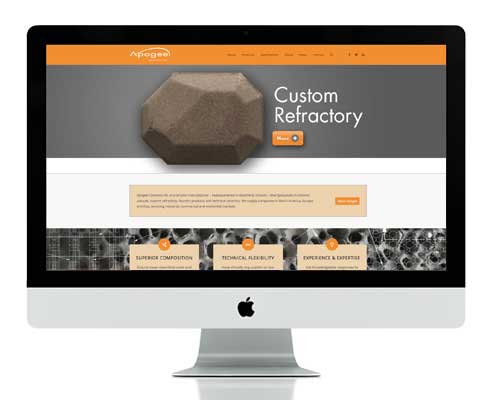 The updated website – along with the stationery, brochure and other marketing materials – supports Apogee as it forges forward and attracts new global business.
Nagy Computer Consultants came to us looking for a new brand and website. They had outgrown their old branding and needed a website that worked harder for them.
Now, the folks at Nagy Computer Consultants aren't your average, boring IT nerds. They have wit, they have heart and they speak about tech in an understandable way. The challenge was capturing the warm personality of the brand while still demonstrating its professionalism and high technical proficiency.
After a creative strategy exploration, we created a new brand story about that positioned them as the humorous problem-solvers they are. The corporate logo is all business, while the magic bunny icon captures their approachable spirit. What's their magic? They don't just provide reliable tech support and solve complex IT challenges; they deliver it with personalized, "real-people" service that makes you comfortable and confident. The bunny icon adds friendly recognition to custom-build hardware, T-shirts and more.
The new brand enables Nagy Computer Consultants to reach new customers, customers who would welcome a little magic in their workday.
Website design and development encompasses a variety of creative and technical skills, including user experience design, search engine optimization, and coding. Mindspin builds websites that present your brand with the best words, images, and user experience to suit your goals and budget. Ask how we can help you with website design and development that takes your brand to the next level.